MSD Animal Health lance un appel à candidature pour le World Rabies Days Award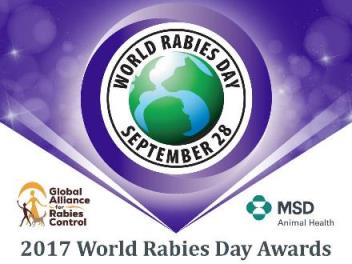 MADISON, NJ, June 2, 2017 – For the second consecutive year, Merck Animal Health (known as MSD Animal Health outside the United States and Canada) will be recognizing individuals and organizations who work to prevent rabies in their communities through the World Rabies Day Awards. These awards represent a partnership between Merck Animal Health and the Global Alliance for Rabies Control (GARC), a nonprofit group dedicated to preventing human deaths from rabies and relieving the burden of rabies in other animal populations. Most importantly, these awards will help raise global awareness for rabies champions in an effort to strengthen their support on an international level. .
"Rabies is responsible for an estimated 59,000 deaths each year, many are children under the age of 15 and almost all of those deaths from dog bites," states Alasdair King, director, Intergovernmental Veterinary Health, Merck Animal Health. "We are proud to partner with GARC to recognize those who are working tirelessly to put an end to the spread of this disease, making communities safer for all."
This year, eight awards will be presented to recipients around the world who are actively contributing to the prevention and control of rabies and are demonstrating an impact in their community.
Winners will receive US$1,200 (or resources of equal value). Nominations can be submitted until August 7th, 2017 at https://rabiesalliance.org/world-rabies-day/awards. Winners will be announced on September 28th, World Rabies Day.
To learn more about the Global Alliance for Rabies Control, visit https://rabiesalliance.org/.
A propos de MSD Animal Health
Depuis plus d'un siècle, MSD est une société de santé internationale qui participe à aider le monde à vivre mieux. MSD Animal Health, filiale du Groupe MSD, dont la maison mère est la société américaine Merck & Co., Inc., Kenilworth, NJ, USA, est l'activité santé animale de MSD. A travers son engagement à mettre La Science au service de la santé des animauxTM, MSD Animal Health offre aux vétérinaires, éleveurs, propriétaires d'animaux de compagnie et aux autorités compétentes l'une des gammes les plus larges de médicaments vétérinaires, de vaccins et de solutions et services de santé. MSD Animal Health a pour mission de préserver et d'améliorer la santé, le bien-être et les performances des animaux. MSD Animal Health investit fortement en R&D et possède une chaîne d'approvisionnement moderne internationale. MSD Animal Health est présent dans plus de 50 pays, et ses produits sont commercialisés sur 150 marchés. Pour plus d'information, rendez-vous sur notre site www.msd-animal-health.be.